85%…and I am one of them!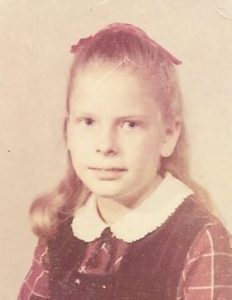 Well, did you know that 80% of those who accept Jesus as Savior come to that decision between the ages of 4 and 14 years of age?   Here in this picture, I was an 8 year old who heard about Jesus.  I was fascinated with who He was, had a little framed picture of Him, heard Bible stories about Him, but no one told me exactly what I needed to do to actually know Him, to become His child, to have my sins forgiven and to have a place in eternity.  The Gospel message was not delivered to me until a year later when my family moved to a new church, and I was so ready!  My new 4th grade Sunday School teacher, unbeknownst to me at the time, used CEF flannelgraph and CEF techniques of delivering the Gospel message through the Bible story.  As she taught me God's Word I heard clearly how to be saved.  Once I understood my own sinful condition and what God provided in His Son, I then became His child.  I've never been the same!
Can you think when you came to know Jesus as Savior…where were you?  Who did God use to share the truth with you?  What Scripture was used?  How old were you?  What was said that helped you understand God's condition of salvation?
Some might think that children in these young ages are too young to come to a saving knowledge and faith in Jesus Christ as Savior.  The truth is, that Jesus believed that the young child could not only be saved, but the heart attitude of children was the right condition for an adult to come to faith…as a little child.  In Matthew 18 the disciples come to Jesus asking," "Who is the greatest in the kingdom of heaven?" He called a little child and had him stand among them.  And he said: "I tell you the truth, unless you change and become like little children, you will never enter the kingdom of heaven.  Therefore, whoever humbles himself like this child is the greatest in the kingdom of heaven.  And whosoever welcomes a little child like this in my name welcomes me.  But if anyone causes one of these little ones who believe in me to sin, it would be better for him to have a large millstone hung around his neck and to be drowned in the depths of the sea." "  A few verses down in that same chapter of Matthew, Jesus addresses the value of children when He says, "See that you do not look down on one of these little ones.  For I tell you that their angels in heaven always see the face of my Father in heaven."  Then in verse 14, "In the same way your Father in heaven is not willing that any of these little ones should be lost (perish)."
The blessing for me was that my family was in church, took me and my younger siblings to church and had us all under godly leadership that taught the Bible, God's Word, accurately and contextually.  I grew up in a committed Christian family.  I consistently heard the truths of God's Word throughout my growing up years all the way into adulthood.  What about the children today?  Children are not in church because their parents are not in church.  They have not heard Biblical teaching, concepts or truths and have no basis for knowing what God has to offer them now and for eternity!  For many, their world of influence looks nothing like the world I experienced as a child!
These reasons bind us to follow our Savior, to see the mission field of these young lives and share the living truth that Jesus loves them, died for them and wants to have them in Heaven with Him through faith in His redemptive work on the cross.  He lives and desires them to have the abundant life only He can offer.  When these children of various ages understand their own sinful condition, recognize that Jesus alone has the ability to offer the perfect payment for their sins, they can be saved!  They can even be the very ones to be the pathway for their family member's salvation.
Were you in that 85%?  Pray for the days ahead to be a part of the mission of reaching these "little ones"!  Jesus loves them and you may be the only one who ever tells them of His love and how He died and rose again proving it.  A child's salvation is in the balance…their family members spiritual condition could be in the balance as well.  Will you follow Jesus in reaching this wondrous group?