Jump in there, CHURCH!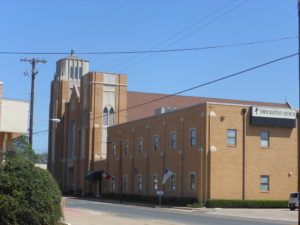 The local church…YES!  God intended for His people to be involved to reach people with the Good News of Jesus Christ and to do His Kingdom work right in the midst of the neighborhood that the local church sits within.  First Baptist Church of Sulphur Springs is an example of one of the churches who is involved with CEF of Lone Star Prairie.  FBC of Sulphur Springs has partnered with the local Boys & Girls Club to come alongside to get to know the kids after school and share life with them in a variety of ways.
This past summer, as well as the summer before, Boys & Girls Club of Sulphur Springs worked side by side with the CYIA team of Lone Star Prairie to hold 5 Day Clubs.  These clubs were held on site and a friendship began to blossom.  These kids met in 2 groups for a week during the summer with teens teaching kids values of worth that is found in knowing Jesus Christ, having refreshments, review games, songs, memory verse activities, a Bible lesson and a cliff hanger missionary story each day.  The younger children met in one hallway while the older students met in the auditorium.  Hugs, smiles and growing friendships were captured not only in pictures as Mr. Brit and Kylee dished out the special snow cone treat of the day, but these kids were captured in the hearts of the workers.
The hot winds of summer are finally beginning to give way to the possibilities of cooler weather but also to renewed commitments to continue in friendships by holding Good News Clubs at the B&G Club after the kids arrive from a long day of school.  As the church, CYIA teens & their families, and CEF workers from Lone Star Prairie make plans for holding Good News Clubs at the Boys & Girls Club, they are also making plans for ways to strengthen and grow this new connecting relationship.
Maybe this will be in showing up to help stop a leak in a bathroom faucet or to have a surprise lunch and craft time when no one expected it!  Maybe it will be in supplying some needed help with homework or to comfort a child whose lost a loved one and just needs a friendly face and word of encouragement that it will work out.  It is especially exciting to know that the hope offered in Jesus Christ from a summer 5 Day Club could lead a child not only to a saving faith, but to courage as an unexpected move comes along or a challenge to a child's security is bolstered by a new friend's support through words given from God's Word, the Bible.
You, too, can be the powerful hands and heart of Jesus as your church partners with a local school, day care center, or apartment community by holding Good News Clubs and then growing that relationship beyond just the time at club.  Find out more by checking on our "Connect 2 Communities" information with pages of ideas and ways that your church can do ministry right in the local neighborhoods where there are many children but maybe no one who can share what is most important…Salvation or eternal life found in Jesus Christ.  Will you and your church be ready to jump in?  Contact our director, Annie Falconer, on our home page for more information.
Local church + Neighborhood Community =  lasting  relationships for the Kingdom of God!