LoneStar CEF Training
Training: CYIA 2021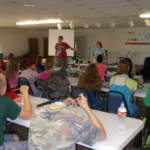 Parents…Pastors….Youth Directors…..Are you looking to see how teens and young adults can have a platform for actually deepening their walk as a mature Believer?  Well, here's a great way to make that happen through CEF's Christian Youth In Action (CYIA) training.
Come join God in what He is doing to minister to children throughout the summer by His developing these maturing students to actually become Summer Missionaries through the wonderful training offered by CEF of Lone Star Prairie.
CYIA 2020 dates will be posted as soon as we get them.
Training: 5-Day Club
Do you want to have a different type of outreach for the summer? Try 5-Day Club ministry. We can train your church teams to present the Gospel lesson, teach memory verses, songs, games and an exciting missionary adventure in a fun way that children love.
There are several ways to plan summer clubs:
 5-Day Club Vacation Bible School.
A focus week of many 5-Day Clubs with a festival for all on Saturday.
Clubs scattered throughout the summer.
Clubs taught by CYIA trained teens.
Partner with CEF of Lone Star Prairie to plan now for a great summer outreach here in your own "back yard". Call 903-455-4297 or email cefoflsp@gmail.com
Training: Good News Club
We offer a Saturday Quick Start training to prepare you for starting a Good News Club. It highlights every aspect of a club. Our clubs stay on the planned CEF 5 year cycle and are able to easily acquire our needed curriculum. By staying on cycle, if a club has a problem, then other trained teachers may be able to lend a hand since the curriculum is the same. We teach curriculum training classes covering each series of lessons: two classes in the fall and two in the spring. We appreciate your desire to reach children. Our staff members are available to help you when you have questions and need support.
Go to the calendar to find registration: http://lonestarcef.com/calendar/
Each registration form is associated with the calendar event.  Click on the event and on the button "More Info".
Training: Teaching Children Effectively (TCE) Levels 1 & 2
TCE-1 or TCE-2, these are the first two of CMI's 30 hour college courses. If you are ready to thoroughly learn to teach children the gospel, TCE-1 is for you. We have qualified instructors in our area who conduct these courses. Our desire is to help you to be the best children's Bible teacher you can be.  Contact us for further information.
Training: Seminars
A well-trained teacher is not a baby-sitter, but one who impacts the lives of children for eternity. We offer 27 different seminar sessions to help you be a better teacher. Considering that children are our next generation of Christian leaders, it places an important emphasis on well-trained teachers.
Training: Little Kids (Pre-school)
We offer a Little Kids Can Know God class. It is one of the most fun classes we have. The method of teaching little kids is to include the 5 senses that impact their learning. When one teen watched the 3 year old class sing songs and say the memory verse by themselves that she had been teaching, she was amazed. It is true—Little Kids CAN Know God!